It's been a few days since I have posted my posts about The Love Dare. The Love Dare is a challenge I gave to a few of my friends and myself. I am always looking for ways to improve my marriage, my faith and my relationship with my hubby. I have seen and love the Movie Fireproof, which is where this dare stems from, so I decided I was going to do it and see if I could improve the areas I spoke of.
http://www.lifeway.com/Product/the-love-dare-paperback-p005180605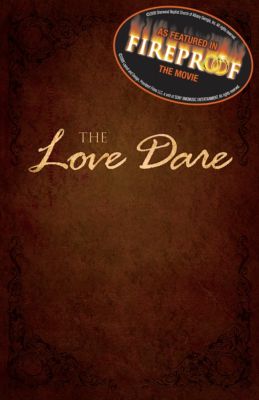 Over this last weekend I did not do the dare. I decided that this was something I was going to work on while my hubby was not home because I need time to read and really understand the dare and what the lesson of the dare is. When my hubby and I do not work Friday through Sunday we are busy with the kids, spending time together and living life so it became clear to me that for ME, the weekends would be a down time.
Yesterday was Monday and it was Day Ten of the challenge:
Do something out of the ordinary today for your spouse-something that proves (to you and to them) that your love is based on your choice and nothing else. Wash her car. Clean the kitchen. Buy his favorite dessert. Fold the laundry. Demonstrate love for them for the sheer joy of being their partner in marriage.
Love is unconditional. God demonstrates His own love toward us, in that while we were yet sinners, Christ died for us. If someone asks "Why do you love your husband?" - What would you say? Women would probably say something about their husbands' good looks, personality. They'd commend him for his steadiness and constant character. But what if over the years he stopped being every one of these things. Would you still love him? The only way love can last a lifetime is if it's unconditional. The truth is this: love is not determined by the one being loved but rather by the one choosing to love. Both friendship and sex have an important role in your marriage as do other things. But if your marriage totally depends on having common interests or enjoying a healthy sex life, then the foundation of your relationship is unstable. Agape love is selfless and unconditional. Agape love is "in sickness and health." "For richer or poorer" and "for better or worse." this is the only kind of true love there is because this is God's kind of love. If a spouse says they have fallen out of love with you then they never really loved you unconditionally to begin with.
Unconditional love, agape love, will not be swayed by time or circumstances.
Wow, those are some pretty powerful words and some pretty hard words to swallow if you are reading this as a spouse. Does my spouse love me unconditionally, and did he to begin with? Those can be some hard questions to ask yourself and have to face in your marriage.
Yesterday was not a perfect day in married land. I was PERSONALLY struggling with some issues I was having in coming to terms with a situation in my marriage. A situation I know the outcome of but still have a hard time putting away the emotions and anger that created the scenario. Rather than focusing my time on my challenge and what I was going to do to show my hubby that my love was based on choice, I allowed my emotions to run away with themselves and me and confronted my hubby with anger rather than love. It was a tough few hours as we went through the issue. The issue and the way we handled it was a failure on both our parts. My hubby was the first to admit he could have handled his response better and that made me realize that I too needed to learn how to address problems in a better way when I am emotionally charged. In the end we both hurt each other but we were both able to come together again and remember the reason we are together.......
Because we BOTH choose to be.
So I failed the dare by not DOING something to show my hubby that my love is based on my choice and nothing else. But I felt like I accomplished my goal in learning that I love this man. I am here because I want to be here. I am forgiving of his things because he is the man I want to grow old with. I beg for forgiveness from him because I want him to know he is the one I choose, he is the one God tells me to stay with and he is the one I love.
I started this dare to help some of my friends and to help myself be a better wife. It did not mean I was not going to make mistakes along the way or that when problems arise I just toss it aside and say forget it. Just like my marriage, I am in this for the long haul. I am in this to learn, to grow and to be better. I am going to make mistakes, I am going to hurt him, he is going to hurt me but if at the end of the day the two of us can still come together, kiss, hold hands, tell each other we love the other and end our day in prayer... than these bumps in the road are alright by me.
My love for my hubby is Agape love and yesterday's breakdown just shows that to me even more.
Today I will continue to pray for strength in myself so that there will be more strength in my marriage.
~Mellie